Hi, hi.
There has been so so much going on in my life lately that I felt like my next post NEEDED to be a recap of what I have been up to!
I am going to start with I COMPETED IN MY FIRST COMPETITION! I was over. the. moon. I will never forget walking off the stage and the feeling that I felt. I was ready to eat. That was for damn sure.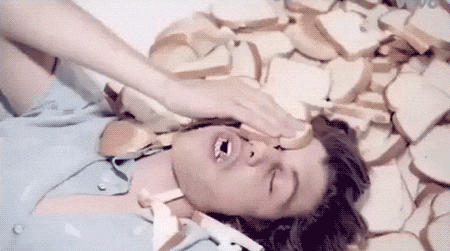 Rolling back just a few days, me and some friends drove up to Spokane (where my show was going to take place) a few days early to get settled in and actually make a vacation out of the whole ordeal. I felt so fortunate to have these people come and support me as I pursued something that I have been working towards for months.
We got in around 1am on Thursday morning and went straight to bed. We were so exhausted from the drive and most of us had a long day on Wednesday. From Billings to Spokane is about 7 hours and we didn't make it out of town until late afternoon. Going from waking up at 6:30am everyday to being able to sleep in was amazing. A not-so-secret about me is that I loveeeee to sleep. It's a problem.
ANYWAYS! Thursday evening we went to Scarywood. Ooohhahhhh. If you have never heard of Scarywood before, it is just Silverwood but the employees dress up and walk around and scare you. Turns out, I do not really like haunted houses … I like a lot of scary and gory things but being scared 'shitless' is not something that I am interested in partaking in.
Friday we woke up pretty early and I got in my last workout. We were staying with my friend's aunt and so we were able to cook some food for the next day since we knew that we wouldn't be at home all day. I wasn't staying with them that night because I was going to get my supppper dark tan and then hit the rack and prepare for the day ahead of me. I guess the biggest thing that I was nervous about was having my dad and sister coming to my show. I know that they will support in whatever I do but I always have a thought in the back of my head that I want to make them proud. So for me, this was a big deal.
Saturday was exhilarating. People can tell you what it is going to be like backstage and what poses you need to strike onstage but no one can prepare you for the feeling that you get once you are up there in front of all those people. You feel like you accomplished something that many feel they cannot (I believe everyone can achieve anything that they set their minds to but many don't want to). Although I didn't place. I came off stage with the biggest smile and I was ready to eat.
If you don't know me then you really don't know the struggles that I was having about competing. About a month before I was set to walk. I was having serious doubts. I feel like people don't understand how I felt unless they have actually been in my position. I felt too 'fat', my posing wasn't 'good enough', I wasn't motivated etc. The list could go on and on. I pushed through because people would tell me that I would regret it if I didn't. I pushed through not entirely for myself but for my friends and family that had given me such kind words of encouragement. And because of them, I chose to be at the most vulnerable state that day.
We came back on Sunday and boy did life not stop. My Coach wanted me back on a reverse diet by Wednesday and at first I really wanted to follow it. But now, after two and a half weeks.. I haven't been eating the best or working out. It is hard because you go hard hard hard for eight months and you really don't feel like you get time off. So I took the time off that I wanted and I'll be going back to the gym this evening. I don't and won't ever maintain how lean I was that Saturday and I am ok with that. But since a few of you have followed this journey, I have decided to share my progress photos with you. I don't look 'cute' by any means but these are my transition photos from start(ish) to finish.
I don't look super lean in any of these but I was also pumping 2 gallons of water into my body each day with a crapton of veggies. I was constantly bloated and doing soooo SOOOO much cardio. On show day I thought it was a MIRACLE how lean I looked and even though I could have been leaner. I was so happy with my progress.
Since next weekend was Halloween weekend. I was DTP. I haven't been out with my friends in so long that I was ready to dress up and have a good time! I was Pooh and my friend Nat was Piglet. We had a lot of fun dancing and enjoying each others company.
Unfortunately, we had so much fun on Saturday that we disregarded the fact that we were having people over to carve pumpkins on Sunday. Ohhhh no. We were not in the mindset that we needed to be to be cleaning our house and decorating. Even though we all weren't feeling 'too hot' we had a heck of a time carving pumpkins with all of our friends.
Can anyone guess which one is mine?
I know that this post was long awaited but it took me awhile to decide what I wanted to write. Thank you to everyone that supported me along the way of such a long journey. I will forever hold you all close to my heart.