Happy fourth and welcome to my second Wellness Wednesday.
This week I've decided to talk about the social media detox I did a last month and how it affected me and why everyone should give it a try.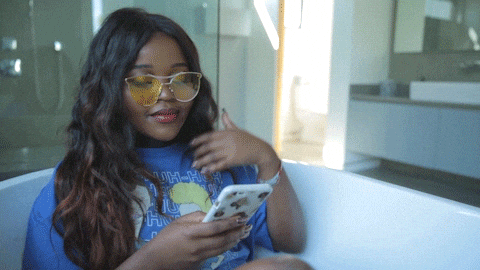 I was definitely the typical girl who was always sending her girlfriends memes on Instagram, Facebook, Snapchat etc. I was constantly scrolling through the popular page and comparing myself to fitness models, makeup bloggers, YouTube stars and so on. I was so consumed in other people's lives that I felt like I truly wasn't living mine to the fullest. The point being, why was I doing that? I decided that it was extremely unhealthy to be doing so and honestly exhausting mentally. I hate participating in things that make me feel sad or upset afterwards and I knew that I could easily make a change for the better by just putting my phone down.
Because of that, I decided to deactivate my Facebook, delete my Snapchat and Instagram apps from my phone and take a break from social media for awhile. At first I was constantly grabbing for my phone to start scrolling through mindless posts that I've already seen a hundred times. But after just a few days I noticed that I was reaching for my phone less when I was at home, with friends, driving (we are all guilty) etc.  I really was trying to focus on being aware in every situation. I'm so tired of hanging out with people that are constantly on their phones! Please put it down and be present. If I could have a life motto it would for sure be to be present. 
I did have certain vices that helped this detox. I definitely saw myself on Pinterest more and instead of browsing or being so invested in other people's lives and what they were doing; I was getting ideas for my new home in Charlotte. What I really wanted from this was to pull myself away from everyone else and focus on myself instead. And you know what? I truly believe that is the reason I came back to blogging! I wasn't comparing my blogs to other blogs, or myself to insta-models anymore. I was so consumed in my well being and it really opened my eyes.
Moral of the story – everyone should take some time off social media and be more engaged in conversations with anyone you encounter. Make sure you are listening and giving your full attention to the people that deserve it. Because at the end of the day, that Instagram model you stalked for over an hour and ended up on her brothers-daughters-friends page doesn't give a crap about that hour you gave her. But your friends/family/strangers will remember these moments forever.
——————————————————————-
Since we got the 'serious' talk out of the way I wanted to start incorporting recipes in my blog. Soooo, starting this week I hope to have at least one recipe up a week of healthy eats that are easy to make. This weeks topic is Sweet Potato Brownies.
Ingredients:
· 1 medium sized sweet potato (finely grated)
· 1/2 c of cacao powder
· 1/4 c coconut oil
· 1/4 c honey
· 3 tbsp almond meal
· 2 tbsp pure maple syrup
· 1 tsp vanilla extract
· 2 tsp baking powder
Directions:
1. Preheat over to 320° F
2. Combine all ingredients into a bowl once sweet potato is finely ground.
3. Line a baking tin with parchment paper and pour batter into tin.
4. Bake for about 25-30 minutes.
5. Remove from the oven and let cool for about 5 min.
6. Place in fridge and eat next day – they are much better and more dense when chilled until the next day!
——————————————————————-
Topping:
Heat 1 tbsp of peanut butter, 1 tbsp cocoa and 1 tbsp coconut oil and combine together. Wait until brownies are completely cooled and then drizzle overtop. Enjoy! 🙂